Mar 16
26
There are articles on Google that help you add a field to an InfoPath form so that you can display who last modified it.  Great.  However, I needed to find out who had last edited (and thoroughly screwed up) an InfoPath form on a specific list in our SharePoint 2010 environment.   It takes a little digging.
First of all, you're going to need to use SharePoint Designer 2010.   Open SPDesigner and navigate to your site.  Now select All Files at the bottom of the left navigation menu.  Then select Lists in the right-hand pane.  (Shown below)
Note: If you cannot see the All Files menu item as shown below, read this previous article.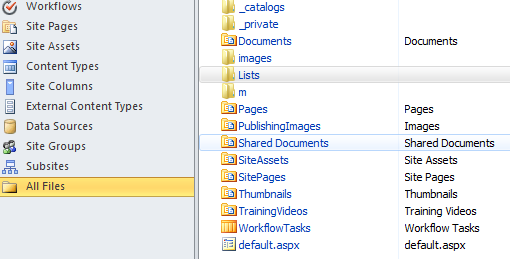 Once you've selected Lists from the right pane, select your list.  It will take you to a screen that I find misleading.

Note that the dates are way off.  I just made a change a few minutes ago and it's not reflected here at all.  This information is three years old.  So ignore the findings on this page.
To dig deeper, click on the directory here NOT named Attachments. In this case the other list is Announcement, although yours will be different.

You should now see several .aspx files and one template.xsn.  The information on this page in the columns for Modified Date and Modified By are what you've been looking for.   Enjoy.
Copyright secured by Digiprove © 2016 Douglas Spicer